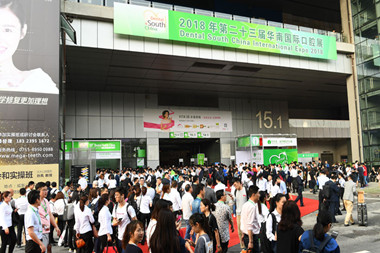 As a professional exhibition in the field of oral cavity, South China International Dental Exhibition started in March 1995. After 23 years of precipitation, it has been at the forefront of the industry.
The 23rd exhibition in 2018 covers an area of 55,000 square meters, with 2,831 booths from mainland China and Hong Kong, Taiwan, and Japan, South Korea, Singapore, Malaysia, Thailand, Pakistan, India, Turkey, the United States, Brazil, Canada, Germany, the United Kingdom, More than 940 exhibitors from 25 countries and regions including Switzerland, France, Italy, Finland, Liechtenstein, Austria, Denmark, Russia, Slovenia, Netherlands and Slovakia presented their image, new products, new technologies and services at this exhibition; More from Germany, the United States, South Korea, Taiwan, China, Foshan Nanhai five major professional pavilions appeared on the same stage.
The 24th South China International Dental Exhibition will be held on March 3-6, 2019. At that time, the South China Dental Exhibition, which is the industry standard, will continue to showcase new products and advanced technologies for the dental industry for professional audiences. The frontier practical continuing education and training courses are dedicated to creating a product display and technology exchange platform that runs through the industry chain of the dental industry.
24th Dental South China 2019
3-6 March,2019
Top Dental EXPO in China

DORIT Exhibition Booth No:16.2 K11