Perfect ending of AEEDC 2016 International Dental Exhibition
Views: 27 Author: Site Editor Publish Time: 2017-12-15 Origin: Site Inquire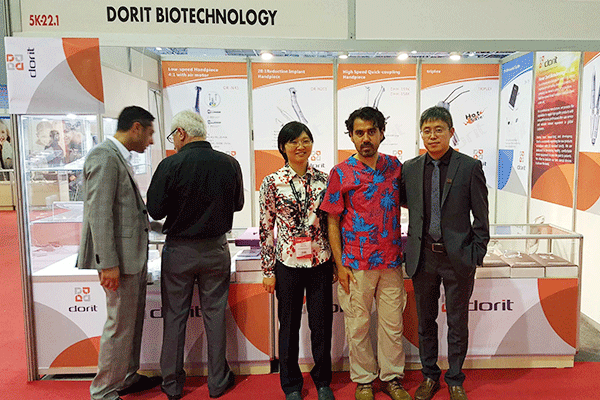 Henan Dorit Bio-technology Co.,Ltd successfully attented the AEEDC Dubai International Dental Conference&Exhibition which was perfectly held from 2ed to 4th Feb,2016.Dorit company mainly showed ultrasonic scaler&dental handpiece series. This dental show laid the foundation for the development of the market,It's not only consolidate the existing relations of cooperation, also exploring a large number of potential customers.
AEEDC is the most influential and professional dental exhibition in the Middle East,It is also the best platform and most important way for manufactures、distributors showing their latest productions. Meanwhile,Dubai is the largest free trade zone in Middle East, as a transit hub for Europe countries, like Africa and Asia, India and other places.The influence of this dental exhibition is so obvious.
This is the second time for Dorit company attend the Exhibition, it's worth mention that we made great achievement in short 3 days. The showing products consists of high&low dental hanpieces、ultrasonic scalers and Three-way syringe.especially our newest ultrasonic scaler T7 series was very attractive and polular sold.while the staff are always full of enthusiasm and patience communicate with exhibitor. The characteristics and advantages of dental products are demonstrated vividly by our staff wonderful presentation.thus made the visitors fully understanding of the products and shown strong cooperation.
In the surging of dental trading nowdays,grasping the needs of today is grasping the hope of tomorrow.Dorit company will provide more mature、professional and efficient solutions to contribute the prosperity and development in dental area. How to take the advantage of the informatization to consummate the management and marketing skills?How to occupy an important position in dental area? Both are the meaningful question to Dorit company for deep thinking.